Welcome to Abberly Avera's Community Page
Please scroll down to view Announcements and Calendar Events.




Have you heard about our Abberly Avera Loyalty Program?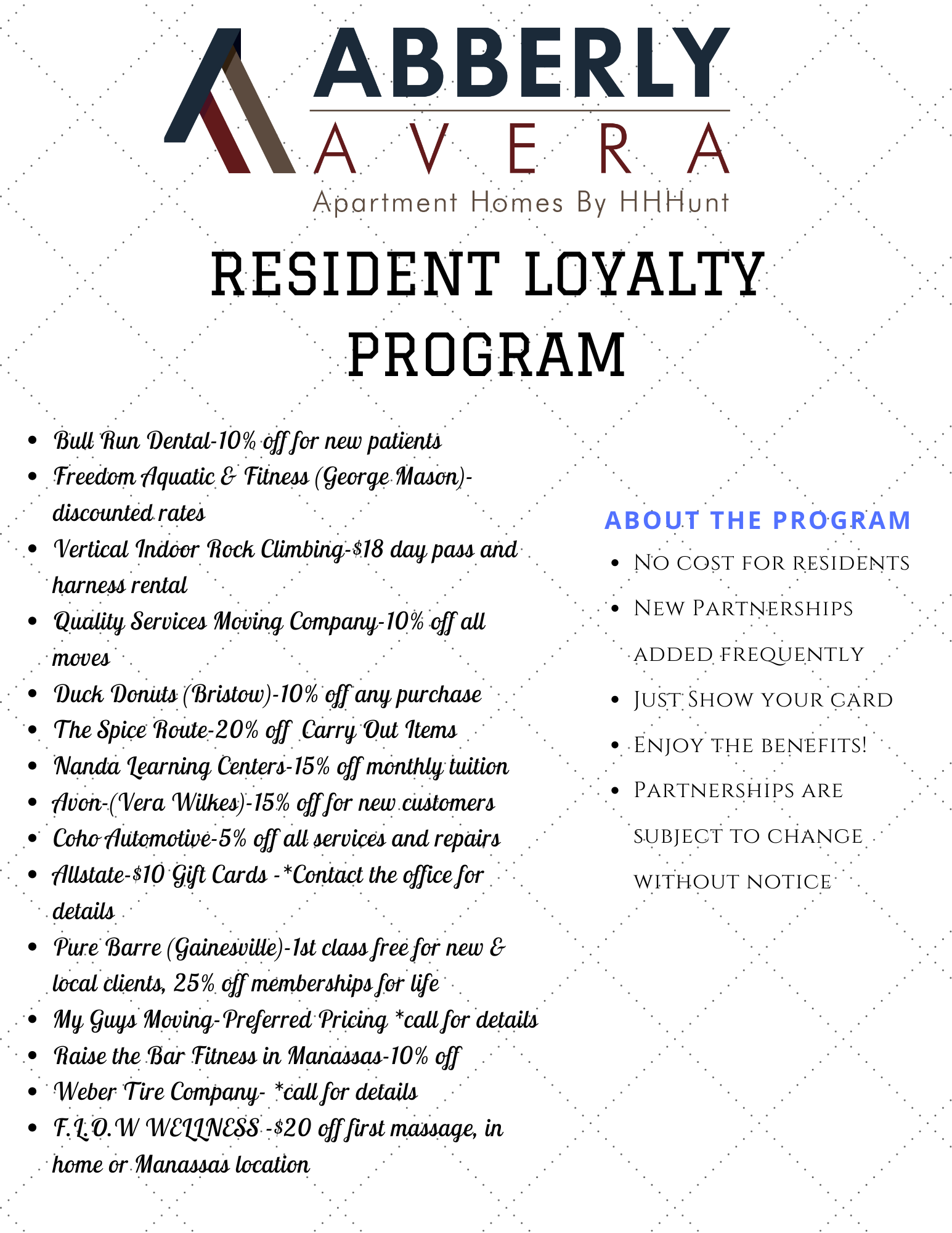 Events
9/1/2022
Village Cafe is here today from 5pm-7:30pm.
9/5/2022
The Leasing Office will be closed for Labor Day! As a reminder there will be no trash service.
9/7/2022
Poppin' Wednesdays from 2pm-5pm at the Leasing Office.
9/14/2022
Poppin' Wednesday from 2pm-5pm at the Leasing Office!
9/23/2022
The Leasing Office will be closed for our Engaged Community Partner Event.
9/24/2022
Abberly Aver Movie Night. Showing begins at 6PM!
9/29/2022
Village Cafe Food Truck will be Visiting from 5-7:30pm
Testimonials
The Maintenance team is the BEST! Freddy and his team are always prompt, courteous, friendly and get the job done professionally. They always go above and beyond, even when you see them on the property, they greet you with a waive and a smile. I've never had this level of service from an apartment complex team. Thank you so much for what you do!
I have lived in the community for 15 months and we love it here. Whenever we have had an issue, we have received quick service visits. The office staff has been great to deal with and the events have been fun and well organized. The pool is amazing and the current lifeguard is so friendly and helpful. I would highly recommend this apartment to others!
A shout out to the head Maintenance guy Freddy. We've had a couple issues in the apartments ( like all apartments) but Freddy has taken care of all issues in a timely manner and has been very professional and friendly. He always says hi and ask how things are. Thanks Freddy!
Freddy, who is with maintenance, is wonderful! He just fixed my dryer very quickly and efficiently. He is professional and friendly, and really knows his stuff! Thank you so much, Freddy!!
LOVE living here at Abberly. Great amenities and staff is super professional. Especially appreciate Freddy Rosales and his extremely responsive and professional service. Thank you Freddy....you rock!!!
Very nice place to live. Never had a single issue that wasn't addressed quickly and fixed. Very pet friendly and most of the maintenance staff lives on site so if you have an emergency they are there quickly. I have lived here for six months.
Welcoming, quiet, and clean. We are happy here and enjoy being a part of the community.
Sarah and her team are very professional and responsive. Excellent customer service. Clean apartments. Nice Community.
Freddie was great and helped with our maintenance requests!
My husband and I moved in a little over a week ago and I have to say it has been an amazing experience! From our sweet leasing agent Juana to our maintenance gentleman. Freddy - what a team!! Every concern and concern answered and addressed promptly! Their customer service is on point! Thank you for making our moving experience welcoming!